Professional Care for your Catch
Most people are unaware of how to properly handle any fish, let alone a large halibut. At the Highliner Lodge we do everything possible to make sure your fish tastes as good as it possibly can. Most lodges either don't know any better... or don't really care to take the time and make the extra effort to make sure that the fish you take home are of the very highest quality. Having commercially fished for halibut and salmon for over 40 years, I know how to properly care for your fish and what a difference that will make in how it smells and tastes when you get it home!
"I have never witnessed such respect and care for the final meat product from any charter fisherman. But then, Captain Steve is a commercial fisherman in a charter captain's hat."

-Andrew Cremata, Fish Alaska Magazine
From the moment that your fish reaches the boat, the clock starts ticking and the quality of the flesh starts to decline. There are steps that all of our guides have been trained to meticulously follow that will ensure that the frozen fish you take home tastes as great a year later as the day it was caught.
A lot of the fish at most other lodges isn't frozen professionally and the quality isn't at all comparable to our standard. If you want top quality fillets the fish must be stunned, bled, carefully cleaned and properly handled on the boat, chilled in ice on the boat, vacuum packed professionally with 5 mil plastic bags... AND frozen as quickly as possible. If ANY of these steps are not taken the quality of your fish will be noticeably inferior to the Highliner Lodge! If none of these steps are taken... the fish is sure to taste terrible.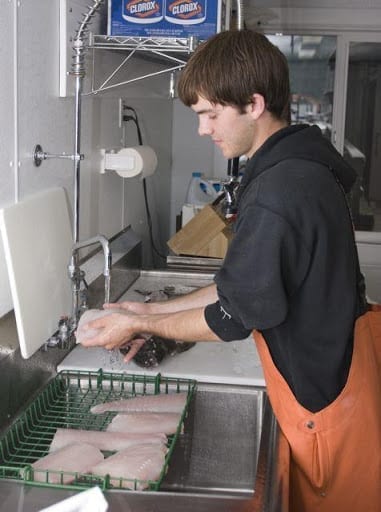 Fish Cutting and Care Tutorials
"Without a doubt the quality of prep from the moment the fish was boated till it got to my plate is the best of my life. Taste, texture, appearance, freshness all are unequaled... WE WILL RETURN"

- Joseph Barnes, North Carolina
FAST FACTS
In 2021, we sent our guests home with over 70,000 pounds of wild Alaskan fish fillets in total, an approximate market value of $1.75 million at $25/lb!
Over the past 5 years, our guests averaged 120 pounds of fish fillets after 4 days fishing!
Approximate fillet yields (skin-on) from live weight by species: Halibut 50%, Salmon 55%, Lingcod 30%, Rockfish 30%, Black Cod 30%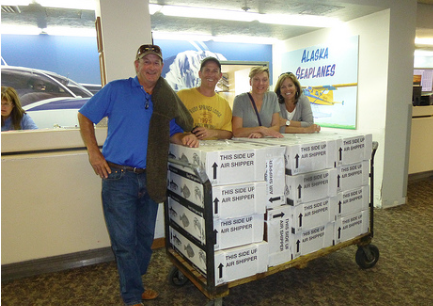 Fact or Myth: Larger halibut don't taste as good as the smaller ones?
Ever heard this one? It's a myth!
For some seafood with stringy flesh, like lobsters, they do get tougher as the animal grows in size. For properly cared-for fish like halibut, this is not true. It is terrible to see halibut (any fish really) treated so poorly as to make them taste bad. Big halibut are much more difficult to properly care for owing to their size. Big halibut are sold into the commercial seafood market and it is virtually impossible to tell the difference between a small and a large halibut based on taste... unless they aren't cared for properly.
If you want bring home the very highest quality seafood, book a trip at the Highliner Lodge! If you have to go somewhere else... insist that the lodge care for your fish properly. If they need some instruction, tell them to watch some of the Highliner Lodge videos. I don't mind teaching anyone in the industry the correct way to care for your fish!