What sets us apart from other lodges? The fishing!
The proven best remote Alaska fishing destination with the largest halibut and highest catch rates in the state!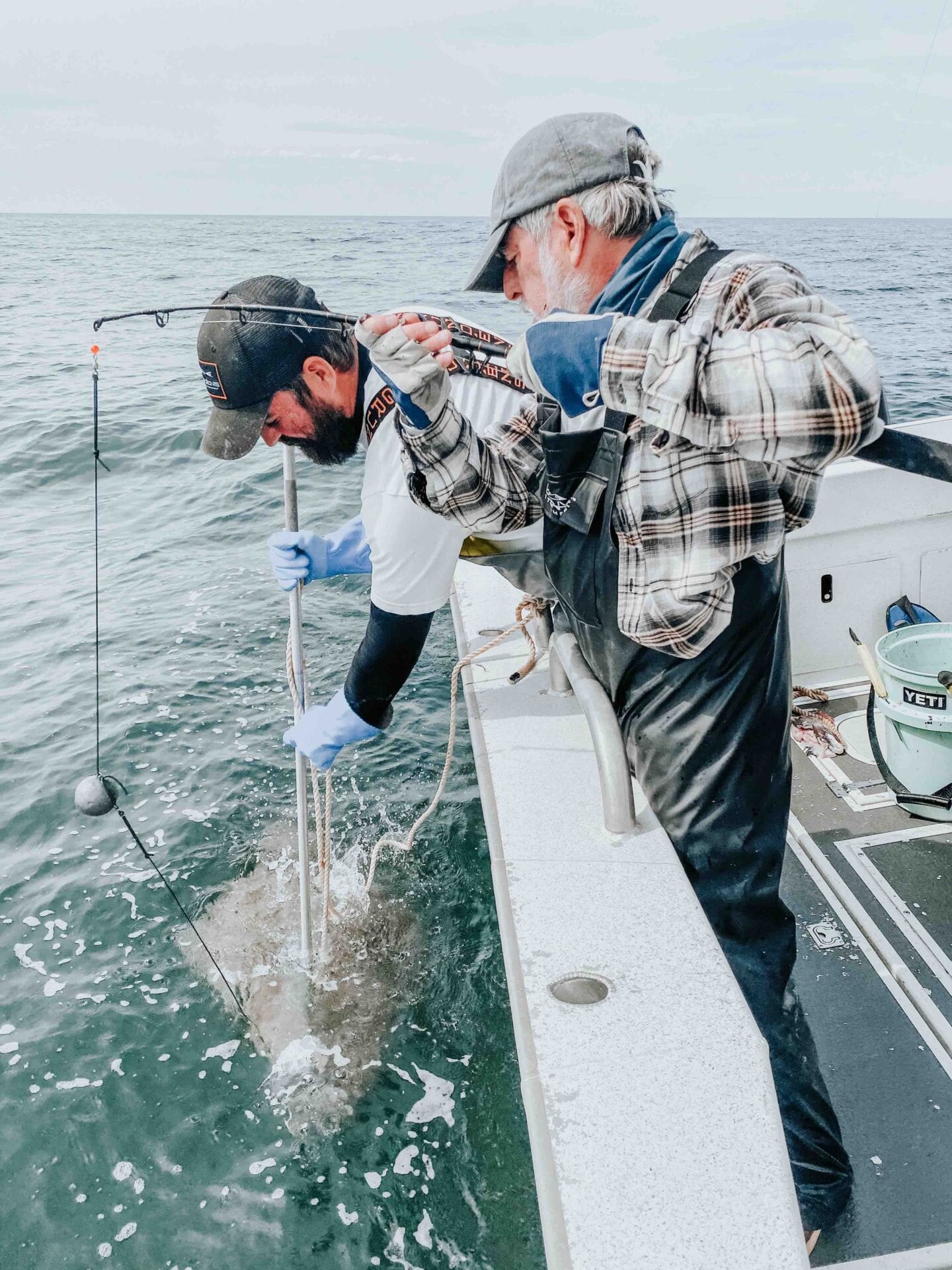 LOCATION, LOCATION, LOCATION!
To catch a lot of fish, you must be in their migratory pathway. You must go to where most of the fish are. If you get in the pathway but there are tens of thousands of other fishermen there with you, well, do the math.
You have to share with tens of thousands of others. Your share won't be very big. If you are late, you won't even get your share. So, it is obvious that you need to get in the pathway and go where there aren't tens of thousands of fishermen. Also, if you want to experience great fishing, you need to be first in line too!
They call them "fishing" lodges for a reason. People like to catch fish! That is supposed to be why you go there—to catch fish. There are many very fine hotels and restaurants in New York and London but there are no fish in their waters and everyone understands that.
If you are going to a "fishing" lodge, your first concern should be if there any fish there and what the catch rates are. People don't understand that there are very few fish to catch at many locations in Alaska. Some lodges have a masseuse, a world-famous chef, an endorsement from a famous fishing celebrity, or even a Frank Lloyd Wright-designed lodge and genuine Lincoln Log bedroom furnishings. However, don't you think that they might be trying to overcompensate for something?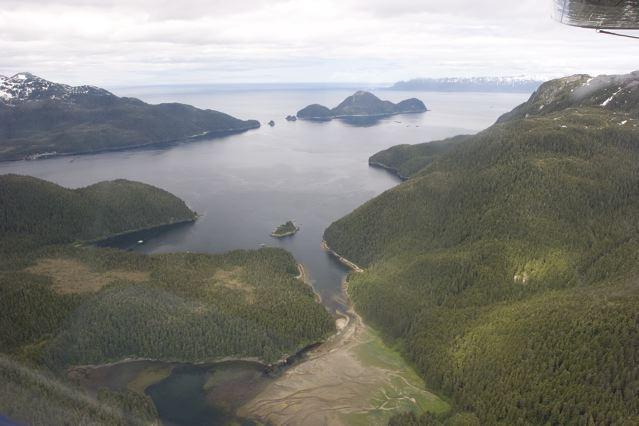 If you're after the fish, you won't be disappointed! For objective reasons, location and competition being paramount, you are in the best possible location!
More things that set us apart
Best Time to Fish and Bag Limits
We have the biggest halibut in all of Alaska... 3 times bigger than Sitka, Seward and Homer. Our king salmon catch rate is the very best in the state (ten times and a hundred times better than most other locations). One of the best things about fishing with the Highliner is that we can catch salmon, halibut, lingcod, and black rockfish everyday. Most places you only catch salmon on one day and halibut, lingcod and rockfish on another day. Also, we can keep 2 halibut per day. Many other places you can only keep one small halibut!
For us there are 4 criteria:
Best weather (historically driest): May through June (believe it or not)

Silver salmon: July - Sept (July 15 through early September best)

King salmon: May through June best (but still really good fishing through mid Aug… although sometimes there are so many darn silvers biting that it's hard to catch a king). Our catch rates are better than Sitka's (less competition) and 2 to 25 times better than anywhere else! 

Halibut, sablefish, rockfish and lingcod fishing is evenly great ALL season long! The best time might be when we have an opening. 
2020 Daily and Annual Catch Limits:
King (Chinook) Salmon
The nonresident bag and possession limit is one king salmon, 28 inches or greater in length;

From January 1 through June 30

, the total harvest limit is three king salmon 28 inches or greater in length;

From July 1 through July 7

, the total harvest limit is two king salmon, 28 inches or greater in length, and any king salmon harvested from January 1 through June 30 will apply toward the two fish total harvest limit;

From July 8 through December 31

, the total harvest limit is one king salmon, 28 inches or greater in length, and any king salmon harvested from January 1 through July 8 will apply toward the one fish total harvest limit.
Silver (Coho) Salmon
Our daily bag limit on silver salmon is 6 per day with no size limit and no annual limit.
Sablefish (Black Cod)
Our daily bag limit on sablefish (black cod) is 4 per day 8 per year.
Halibut (already approved for 2021!)
Area 3A: The daily bag limit on halibut for Area 3A is 2 per day; one fish any size and one fish under 32",  no annual limit, no halibut retention on Wednesdays.

Area 2C: The daily bag limit on halibut for Area 2C is 1 per day; under 50" OR over 72", no annual limit. No restrictions on Wednesdays.

We have licenses to fish both areas and our guests have the choice to keep two halibut a day of any size in either area using our Guided Angler Fish!
Lingcod
Our daily bag limit on lingcod is 1 per day, annual limit is 2 (one of the 2 must be between 30-35" and the other has to be over 55").
Non-Pelagic Rockfish
No retention of non-pelagic rockfish in all Southeast Waters for 2020.
Pelagic Rockfish
Our daily bag limit on pelagic rockfish is 5 per day with no annual limit.
Usually, we fish for salmon until around lunch time and then fish for halibut in the afternoon. More than half of our fishermen limit out on king salmon and halibut on the same day. We target lingcod and rockfish if we haven't caught them incidental to fishing for halibut and they are relatively easy to catch. Our guests averaged 120 pounds of fillets over the last five years, after 4 days of fishing!
HIGHLINER LODGE FISHING TIMELINE
May and June: King Salmon and Halibut are abundant at this time (and continue to be so through September!) We have the driest and sunniest weather this time of year as well.
July 1: Dude Fishing starts
Early August: Cohos start to get big!
September: Coho numbers peak in late August to early September, but the fish just keep getting bigger!
The Cross Sound to Yakutat chart above shows 200 miles of an immense coastal area that hasn't a single fishing lodge located in it. There is zero sportfishing effort between Yakutat and Cross Sound. This serves as a virtual marine sanctuary and is part of the reason our catch rate for salmon and halibut exceeds all other areas in the state! I have blown up the area in the bottom right hand corner of this chart and posted it below. 
If there is one thing that we can't stress enough, this is the most important factor in fishing. Because Highliner Lodge & Charters is located within 10 miles of the Gulf of Alaska (95% of lodges in southeast Alaska are located about 125 miles from the Ocean—see map), we don't rely on one particular run of salmon that spawn in a particular river system.
We are catching king salmon from hundreds of salmon runs that are destined for local Alaskan rivers as well as Canadian, Washington, Oregon, and California river systems. This means we have a steady supply of king salmon beginning in May and continuing into September! The further inland and south a lodge is located the more reliant you are on local fish alone. Those fish bound for a river system down south migrate down the outer coast, and very few of them show up in the inner coastal waters of southeast Alaska. Some lodges (located many miles away from the Gulf of Alaska) have a king salmon season lasting only two to three weeks, and your timing is critical.
If the fish for that system is late a week or two, well, you're out of luck! Ever hear the "You shudda been here last week" excuse? Even if you are lucky enough to book your trip at the peak of their season, your fishing will likely be vastly inferior to what you could expect at a lodge located right next to the Gulf of Alaska, where the fish are. For example, the peak "king salmon season" in the Petersburg area is about 1 month long and the average catch there is one king salmon every 8-9 hours of fishing. Our peak season 3 months long and we average one king salmon for every 4 hours of fishing. That is for 3 solid months from May through July! That's twice as good and even 3 times as long! After mid-July, our average is one king salmon every 6 hours, and in the Petersburg area, it will take you well over 100 hours to catch a single king salmon! That is ten days of fishing for ONE fish!
Maybe you're thinking, "Well, gee I don't like to fish in the ocean... It's hard to stand up, and I might even get seasick!" Well, that's understandable. No one wants to be miserable!
Once again, the mantra: LOCATION, LOCATION, LOCATION! Highliner Lodge & Charters is so lucky to be very near the ocean. Yet when we fish in the ocean, we don't have to run 20 to 40 miles from protected waters. We usually fish very close to the shore, because that's where the fish are! If it's too rough in the ocean, we can easily move into and fish in calm inside waters and still be close enough to the ocean to access a steady supply of fish. Many lodges (especially out of Homer, Seward, and lately Sitka) have to travel 20 to 60 miles, and sometimes many miles off-shore because the local waters have been depleted by their massive local charter fleets. This means you are wasting many uncomfortable hours traveling to and from the fishing grounds in unprotected waters. These lodges are well established because they have a steady stream of customers from cruise ships, airlines and the road system connected to population centers. Again, we built Highliner Lodge & Charters where there are few people and lots of fish. They built their lodges where there are lots of people and many times very few fish.
"If you have such a great location, why aren't there more lodges and boats in your area?"
Besides not having an airport, cruise ships, and a road in and out of our area to supply clients, there is very little infrastructure and almost no land available to support more lodges. Ninety-nine percent of all this area is in Glacier Bay National Park, or Lisianski Wilderness area and its use are severely limited. We are nearly 100 miles away from a Costco, a Home Depot or an outboard motor mechanic.
Lodges fish for clients. They don't go to where the fish are; they go to where the clients are! It's easier to attract clients to known destinations like Sitka, Seward, and Homer. How many people have heard of Pelican, Alaska? Lodges attract other lodges. The Kenai River is a prime example. Their reputation was built 40 years ago. Everyone's heard of the legendary Kenai River! But, you can drive there, you can fly there, you can even take a bus there! The fish-guiding business there has a never-ending stream of fishermen. They now have a very limited number of fish. The Kenai River king salmon fishing has been so bad lately that it has had to be closed entirely 6 of the last 7 years. Even when you are allowed to fish, they have to put a positive spin on the grossly overcrowded and over exploited fishing, so they call it "Combat Fishing" as if that were a good thing!
The cost to operate where we are is much higher than in those other destinations. Gas costs $1.50 more per gallon here than in Sitka. Electricity is 4 times the cost of Sitka's electricity. A grocery or hardware store in Pelican? Forget it! Many of our supplies are shipped into Pelican on a seaplane at $1.30 per pound. And we have the expense of flying you and your fish in and out of Pelican on afloat plane!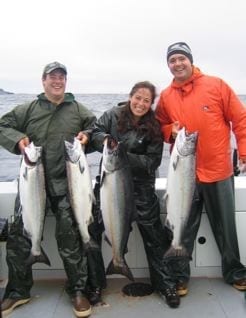 What makes you an expert? I'm not a doctor, lawyer or trust-fund baby who decided to buy a fishing lodge instead of retiring to Palm Springs (although that might not be so bad!). I am a life-long commercial salmon and halibut fisherman. I have lived and fished, crabbing in the Bering Sea (think Deadliest Catch!), long-lining halibut in the Gulf of Alaska, and trolling for salmon in southeast Alaska for over 42 years. This is the only career I have ever known. I have made it my life's work to know where, and how, to catch fish.(See About Us Page)
I am NOT an expert in public relations, marketing, networking, back-slapping, or glad-handing—I know it shows!—but, hey, I'm working on it! But, I do know where to catch fish!